Animal Communication
Throughout the years I have worked with animals of all kinds, training and healing mostly horses, dogs and tropical birds. I have also worked with abused animals helping them to trust people again and to find them loving homes. Because of my awe for animals I am thrilled to work with pets, wild or farm animals and their counterparts, helping to bring health and greater communication where languages do not always meet!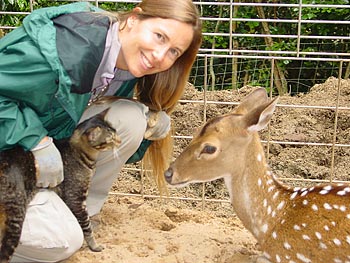 Sessions for animals may include a reading, healing or both. I will be communicating directly to you via the telephone, internet or in person regarding your pet. Pictures of your animal are not necessary, as I can easily "tune in" to your pet's energy through knowing their name, type and age.
You may ask any question that you wish such as, "Does my cat like my partner?" Or a more serious question such as, "How can my dog heal from cancer?" If the reading is health related, I will ask about your animal's symptoms. Then I will look at the dis-ease and address what cures can be given for your animal.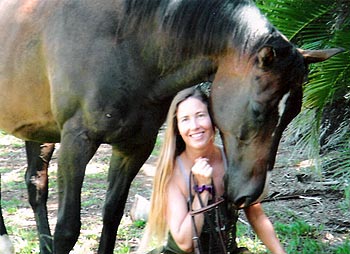 Healings for animals can be very powerful. As I look into the animal's body I remove blockages that are causing the ill health. The rate of healing will depend on the will and desire of the individual animal.Some will heal instantly with the re-alignment of their energies, while others may be resistant to change. Animals are much like people differing greatly in their personalities. Even when conditions are terminal healings may be beneficial as they will simply allow your pet to make a more peaceful transition.
Animals often reflect their owner's conditions and may take on illnessesfor you to act as a buffer. For this reason, the cures that I give to your animal may also apply to you. This is a "phenomenon" that I have seen repeatedly!
Click here for BOOK A SESSION & PRICES